Spring Break in ​Ft Lauderdale | The Best Laid Plans
Here is Central Florida we recently enjoyed Spring Break. My family had a glorious 7 days planned in the Abaco Islands. The Abaco's are located in the northern Bahamas – easy to get to from Orlando, beautiful waters, a laid-back vibe and warm and sunny weather…. Usually!
Last week the entire east coast experienced several days of cooler (for us) temps and rainy weather. We knew on departure day there was a good chance for a delayed flight due to rain and some turbulence once in the air.
Side note: If you're like me and HATE turbulence you need to get the Turbulence Forecast App.
And of course, by the time we got near the gate (at about 8:30am) we were notified of our first delay. Did you notice I said "first"? As the day unfolded, we were delayed repeatedly and then finally, the entire flight was cancelled about 6:30pm. There aren't that many flights to the Bahamas each day, so we were grounded till the next morning for sure. Night #1 of Spring Break was spent in the Hyatt Airport Hotel. Literally, we'd only made it about 20 miles from home! Early the next morning we started hustling to get on the first flight down – but our party was 6 people total and we couldn't locate enough seats on any flight. After several hours of haggling the airline refunded our money and we were left to scramble for a Plan B.
Airport Hyatt Hotel – not exactly the Bahamian View we had planned on!
Now – crafting Plan B was sort of exciting – for about the first 3 hours. After that, panic started to creep in a bit. We couldn't find suitable flights for our two traveling families to ANYWHERE sunny. Our bags were packed for beach temps, and it was still pretty yucky weather all along the eastern coast and the Caribbean thus limiting our options. Plus, we needed three hotel rooms all within a reasonable budget (not an easy task). Now we are into Day 2, hotels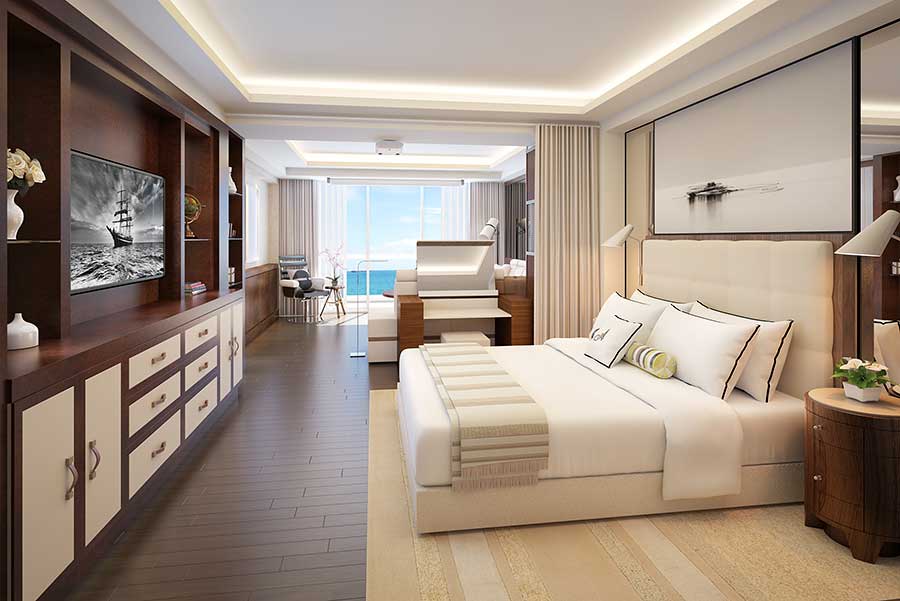 all over Florida are filling up fast and our two teenage girls were beginning to wonder if they would ever get to show off those new bikini's!
Ultimately, we decided to rent a car and just head south. We made our way to the Ft Lauderdale/Palm Beach area and luckily found some great hotel rooms on the beach. It wasn't the best start to our week – but it was a good lesson
in flexibility, change and staying calm. We didn't get the Spring Break we'd planned but the vacation was a fun filled success nonetheless!
The hotel we ended up in for most of the week was a Conrad Property. Conrad's are a more boutique type hotel
owned by Hilton… hello Hilton Honors Points! We had stayed at a Chicago location before and were very impressed. This Ft. Lauderdale location didn't disappoint either. The rooms are BIG, like really BIG in my opinion. The pool area and spa were both nice. The on-site restaurant had good food (the best cornbread I might have ever eaten, andI'm
born and raised in the South) nice drinks and the service was great. No
complaints from anyone in our group. Here are a couple of pics. The first one is of the lighting in the
lobby. The photo doesn't do it justice – it was super pretty
and unique! The other two are from their website.
As for the rest of the week we did finally get some sun about Day 3 and that thankfully lasted the rest of the week. When it was rainy, we sought shelter in the mall (Sephora got me AGAIN) and played dice games in the lobby bar. We also indulged in a couple of spa manicures.
Once the weather turned bright and happy, we rented a boat for one day. Let me be honest – we rented a yacht for a day ya'll. Remember we had 6 people in our group, so we were able to split the costs and enjoy an EPIC splurge. We cruised the intercostal in style. Soaking up the sun, the water, the amazing homes and unbelievable boats. Oh, and there were snacks and beverages involved too!
For the last day we hung by the pool and just enjoyed each other's company as well as our surroundings. All in all, it was a wonderful, if unexpected week. Spring Break is a chance to rest, recharge, spend time with family and friends and enjoy the spring weather. In the end we accomplished all that and more.
For those of you with kids at home and in school – what did you do over Spring Break? Did your trip go as planned? Love to hear!
xoxo,
Jessica